Elf on the shelf is a Christmas tradition that seems to have take off immensely in the last couple of years. It's great to see so many parents getting involved in the magic and excitement that Christmas is all about. To help you add an extra magical touch, we've created a few elf on the shelf templates.
Introduction and Goodbye letters
Our first set of templates are two different hello letters and a goodbye letter. The first hello letter is mainly for a first time elf on the shelf user. It explains who the elf is and why he's come to spend the Christmas season with your family. The second hello letter is more of a "I'm Back!" type of letter and to remind the children why he comes at Christmas time. Our goodbye letter is for him to give to the children on Christmas eve and to say that he can't wait to see your family again next year.



Elf on the shelf planning calendar
This personal elf on the shelf calendar will be a life saver after the first week of setting the elf up at night time. How many parents have finally climbed into bed at night only to remember they need to move the elf again? With this calendar you can sit down and map out what you will be doing each night and the things you need to pull off that idea.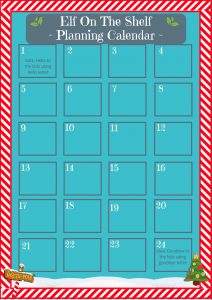 Christmas Count Down
With this Christmas count down, all you need to do is print it out, cut it out and then laminate it or place clear sticky tape over the number of days until Christmas. This way, all the elf on the shelf needs each night is a white board marker to update the count down for the kids.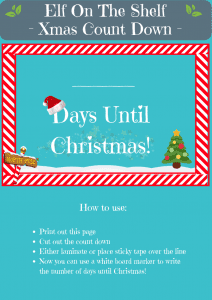 Naughty And Nice Cards
These naughty and nice cards are designed to encourage positive behaviour in your children. The nice cards are like a praising system for things that most kids need a little help to work on. The "naughty" cards are more of a reminder that your children have the power to do better and encouragement to try harder next time. We don't believe in punishing or making the children feel bad, so we've come up with some gentle reminders that bad behaviour isn't okay. I've used these with my children before and it really does make a difference if you focus on correcting bad behaviour and praising the good. You will notice we have left two blank cards, these are for you to fill out with things that are more personal to your child. Just cut these out and your set to go!


Christmas Activity Cards
These cards are designed to keep children busy throughout the Christmas season and to teach them about giving back. It brings even more magic to the season when these daily activities comes from the elf and the kids have a blast.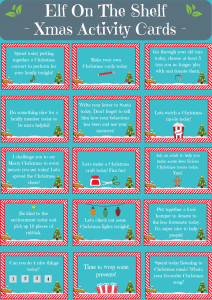 Downloads:
These templates are a great personal touch to elf on the shelf, you can download the printable versions by clicking below.
I'm Here – Elf on the shelf introduction letter
I'm Back – Elf on the shelf introduction letter
Goodbye – Elf on the shelf goodbye letter
Elf on the shelf planning calendar
Every child deserves to experience the magic that Christmas brings and I think as parents, we also deserve to feel that magic too. These elf on the shelf templates are a must have if you want to add a little extra to your families festivities this December.
You can find more Christmas blogs here.