Are your little ones itching to write their letters to Santa but you don't seem to have the time to sit down and help them set it all out? Maybe you just want to make it a little more special for them. Don't stress yourself out during this holiday season, we have put together all of the templates you could ever need for this magical Christmas tradition. Below you will find our printable paper, templates, toddler templates and even a return letter from the big man himself.
Write your own letter to Santa paper
With this bright Christmas theme paper, your children can write their entire letter themselves to Santa. They could start by telling him about their year, how their behaviour has been, what they're most excited about during the holiday season. Then they could ask for a few desired presents and end it with a nice message for Santa. The whole letter will be in their hands with this paper, download the PFD printable version here.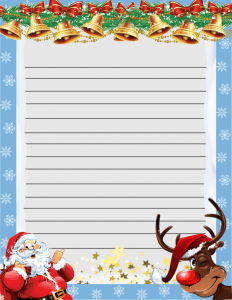 Letter to Santa Template
Have your children fill out this letter to Santa that has everything set out for them. It starts off by telling Santa how old they are this Christmas, how their behaviour has been and then a few lines for them to list of their most desired presents for this year. Let them have fun with letter writing and learn how they can set out the stages of a letter when they're older. Download the printable PDF here.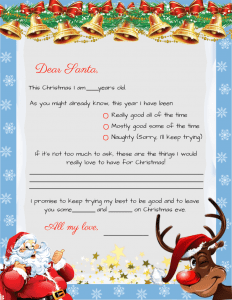 Toddler template
Almost exactly like the previous template, this one is designed more for toddlers and children who can't yet write or spell. It starts off with how old they will be this Christmas, a multiple choice statement to say how their parents feel they've been behaving and ending with three boxes for them to draw the things they want for Christmas. They could also utilise their fine motor skills and cut and paste inside the boxes from a toy magazine the things they would like to ask for. Signing off on this template are two boxes to draw (or cut and paste) cookies and milk ( or whatever it is that your children usually leave out for Santa on Christmas Eve). You can down this in the printable PDF format here.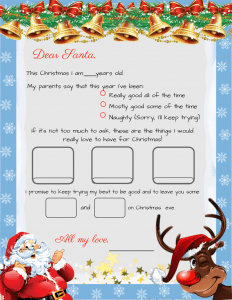 Return Letters From Santa Clause
To add to the magic of Christmas, we've created two simple and effective letters from Santa that you can easily print out. All you need to do is sign your child's name and fold it nicely into an envelope, address it and sneak it into the mailbox. If you like, you can even purchase a stamp and send it right back to your house. Have the kids check the mail (if they don't already) every day to see if they receive any Christmas mail.
We know that not all children can be on their best behaviour all of the time and this is why we've created two letters from Santa. The first is to encourage the good behaviour in children who have been doing the right thing lately and the second is to remind children who have been misbehaving lately that they have the willpower to change their behaviour in time for Christmas. you can download the printable PDF's below.
Letter from Santa – Naughty List


With all of these templates, you should be set to start your letter writing to Santa in no time. Don't forget to use Santa's address below so your letter's don't get lost!
Mr Santa Clause
The North Pole, 9999
Check out our blog for more!