If you have kids, or you entertain friends a lot or even if you just have a pet; you will know what it's like to see your couch and be totally embarrassed and/or disgusted by the look and smell of it. Our couches take a lot of wear and tear, smells, dirty feet, body odour and much more from every person or animal that sits on it. Not to mention when kids spill food or drinks over the fabric, it can quickly turn into a breeding ground for germs and smells. That's why we want to give you a recipe for a natural and safe couch cleaner to use on the furniture item that your whole family uses.
You Will Need:
1/4 cup vinegar
3/4 cup of water
1/2 tablespoon of dish soap – we recommend ecostore or natures organics.
A few drops of essential oils (optional)
Spray bottle
Damp cloth
Dry cloth
Making The Couch Cleaner
Mix all of the ingredients into a spray bottle
Spray the solution over the entire surface to clean the whole couch or on the direct area for specific areas
Using your damp cloth, scrub the areas of the couch
Rinse your cloth with warm water and use it to remove any soap solution left on the couch
Using a dry cloth, blot the damp areas of the couch to remove moisture and then let the couch air dry
Extra Couch Re-freshener
Mix 1/4 cup of baking soda with a few drops of essential oil into a spray bottle
Add in water to the top of the bottle and shake well
Spray the couch re-freshener solution over the couch as needed
Tips:
Use the couch cleaning solution to clean your couch at least once a month if you entertain regularly or have children or pets
Spray your couch with the couch re-freshener once a week to keep it smelling nice and fresh
Don't smother your couch in either solution, use only as much is needed to help you scrub it clean
Always test in a small discrete area before applying to larger visible areas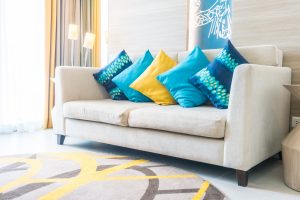 With these handy tips you will soon be confident enough to have those friends over for your next coffee date and not have to worry about how grubby your couch looks and smells. You might even be that impressed with yourself you'll share this awesome natural couch cleaner over your coffee date.
Check out our blog for more hints and tips for a naturally cleaner home!