Let's face it, life keeps getting busier and busier. The cleaning seems to be endless and I'm sure that I'm not the only one who can get overwhelmed by the daily things that need doing and the chores that get overlooked each week. Read on to find a simple, yet effective weekly clean schedule to help you out.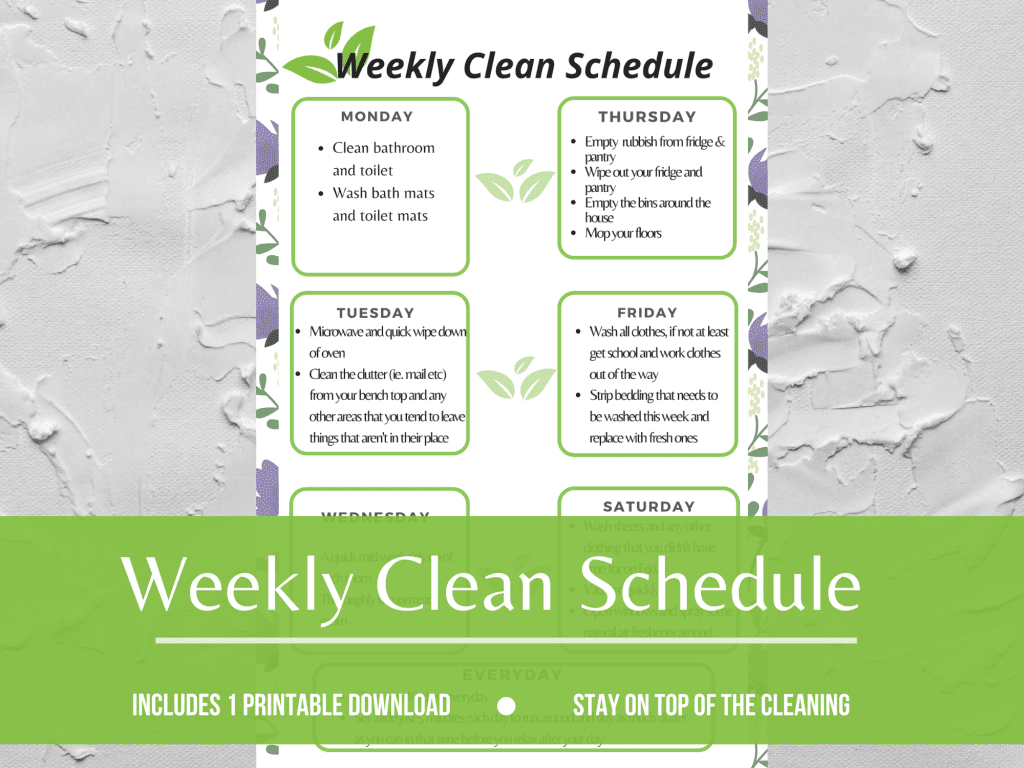 Monday:
Clean bathroom and toilet
Wash bath mats and toilet mats
Tuesday:
Clean your microwave and give the oven a quick wipe clean
Clean the clutter (ie. mail etc) from your bench top and any other areas that you tend to leave things that aren't in their place
Wednesday:
A quick mid week tidy up of each room
Thoroughly vacuum each room
Thursday: (Or swap with the day before bin day)
Empty your fridge and pantry of food and rubbish
Wipe out your fridge and pantry
Empty the bins around the house
Mop your floors
Friday:
Wash all clothes, if not at least get school and work clothes out of the way
Strip bedding that needs to be washed this week and replace with fresh ones
Saturday:
Wash sheets and any other clothing that you didn't have time for on Friday
Vacuum quickly
Open windows and spray some natural air freshener around the house
Sunday:
Everyday:
Try to stick to one of two rules with your kitchen; have it clean before you leave the house that day or have it clean before you climb into bed each night
Set aside just 5 minutes each day to run around and tidy as much clutter as you can in that time before you relax after your day
This weekly clean schedule should only set you back about half an hour each day plus your 5 minutes of speed cleaning. We think this is quite manageable compared to letting it all pile up on you and having to spend your weekend catching up on everything, and way less stressful!
Download and print our Weekly Cleaning Schedule to hang with your calendar at home to keep on top of the housework.
Keep your eyes peeled over on our blog for our monthly cleaning schedule for those much deeper cleans.
If you still feel like your overwhelmed, running out of time, too tired after work or just not getting enough time to enjoy life; then head over to The Naturally Clean Co and book us to come and help! You really don't need to do it alone!