The Problem
The last few months I've been planning my wedding and with all of the little details that go with the process, we wanted to look for small things we could change to create a bit more of an environmentally friendly ceremony. One thing that came to mind was our flower girl basket, so we sat down and thought of some different things for our flower girl to carry.
Given that our wedding has taken a whopping 10 years to make happen, we didn't want to be cleaning up fake petals afterwards when we could be enjoying our first days of finally becoming a married couple. Being parents of two also meant that we were running on a tight budget so buying real petals was not an option for us at all.
This is when we had decided to have a small bouquet for our daughter to hold while walking down the aisle. Perfect! No clean up and ties in with our Eco wedding goals. However, when mentioned to our daughter (6), she explained that she had her heart set on carrying a basket and sprinkling flowers down the aisle.
Back to the drawing board it was and the same problems came up. Budget, time and being environmentally friendly. What were we going to do?
The Solution
That's when we found the idea on google to use a hole punch, a bit of time before the wedding and a whole heap of fallen leaves. The idea was perfect and the photos we saw on google were exactly the type of look we needed for our rustic style eco-wedding.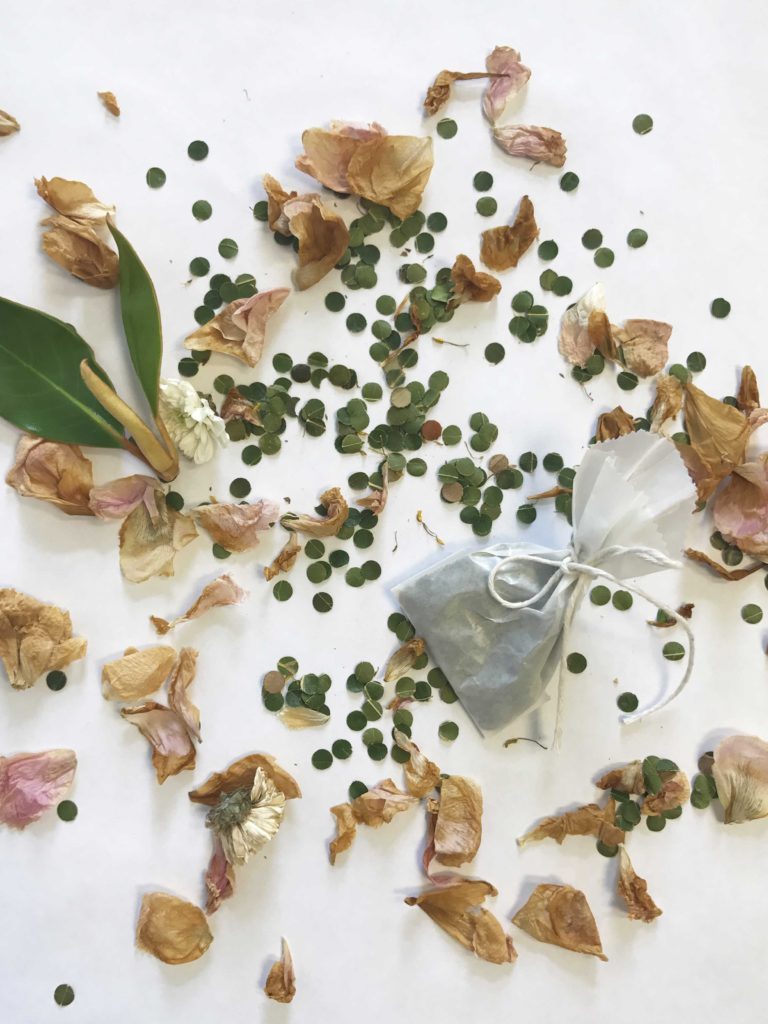 So using these tools, we've started creating a tonne of leaf confetti for the flower girl basket. This process is a little time consuming but a perfect way to have the kids help by collecting the leaves and helping to hole punch the confetti. It also means there is no clean up after the ceremony and absolutely no risk of harming the environment, wildlife or our pockets!
Eco wedding confetti DIY
Collect lots of fallen leaves of different colours
Start hole punching them and collecting the rounds in a tin
You can also add some potpourri for extra colour and a nice scent
Check out some of our other Eco party planning tips!