With the shops being flooded with some really cool Halloween decorations this year, it's hard to say no. Especially when the kids are begging you! It was only a few years ago that the very little selection of decorations for Halloween was really cheap, brittle plastic that would be lucky to last the year you got it let alone store away for future years. Nowadays in Australia, people are becoming more and more accepting and willing to celebrate Halloween. The shops have noticed and have started upping their standards on decorations. It now seems that Halloween decoration quality is almost up there with Christmas decoration quality and we can't get enough!
However, nothing can ever beat homemade! Especially when you have children yourself. There are many reasons to incorporate homemade Halloween decorations into your displays this year, some of them are:
Giving children Halloween activities helps excite them for the occasion
Personalises your decorations and display and sets you apart from the rest
Creates family memories that one day will be what your children treasure the most
Is a great way to continue going green for Halloween (eco-friendly choices)
Saves spending money, especially while times are so tough right now for so many families
Below is a brief list of decoration ideas that you could easily recreate for some homemade Halloween decoration magic in your home this year!
Halloween wreath made from a wire coat hanger, crêpe paper and any bits and pieces you find that would suit your colour theme, or scary theme from around the house or the dollar store.
Paint plain coloured flowers to match your theme.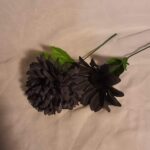 If you have a Cricut machine then the creations are endless! Stove top covers, wall hangings, tea towels etc.
Painting old Christmas decorations are also super effective!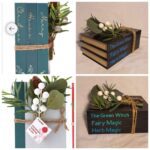 By using some old lace, a balloon and PVA glue you can create a ghost or 2 to hang out of your trees. Simply dip the lace into your glue to cover it thoroughly and then drape it over your balloon until completely dry. Next, you can pop the balloon, glue on some eyes if you like and there you have it! A ghost!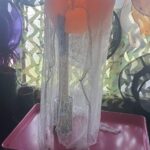 Use old bottles, jars, wine bottles etc as potion bottles. Mix up some water with different food colourings, a bit of glitter and maybe a touch of paint on some of them and you'll have a magical potion station.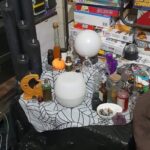 Cut down some pool noodles to different lengths and drip some hot glue down the sides of them to resemble dripping wax. Next, paint the whole thing black and tie or glue them together into a bunch. Add in some battery-operated tea light candles and you'll have this super effective Halloween candleier to display. You can view the full instructions here.here.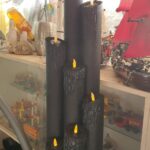 Skull table centrepiece- view the full instructions here!
There are so many cool and simple ideas on google, Pinterest, Facebook and TikTok that you and the kids could create and craft to your hearts content!
We'd love to see what else you guys can come up with, be sure to post them and tag us on Facebook and Instagram!
All photos in this article are supplied by Colleen Greenwood.
Check out our blog for hints and tips and more articles.
Are you looking for a cleaner that you can trust to do the best job possible? Check out The Naturally Clean CoThe Naturally Clean Co for all your cleaning needs and watch your life transform into more time for those you love most.