Today marks the last day of term 2 for Queensland school children, but it also means that tomorrow is the start of our very first June /July holidays during the COVID-19 crisis. Most places have relaxed their restrictions by now however, some parents may still feel like it's too soon to "go back to normal" when it comes to school holiday activities. Below we have listed some ways you could bring the fun home during this Winter break!
The fun jar
Have a jar with different activities inside on different pieces of paper. Each day (or the night before might be even better), have the kids choose an activity to complete. You could fill this jar with challenges, craft, sports, games, different family members to call, acts of kindness, baking etc. The list of ideas are endless! Just think about what your children love doing, things you want them to learn and things they might need help working on that you could incorporate into fun (like maths and maths games). This is also a great opportunity to add in some things that they would never usually try themselves, things that get them doing something new and stepping outside of their comfort zone (within reason of course!). The fun jar works just as great during the school year as it does over the holidays. Fill a weekend one up with family things to do etc and enjoy bonding as a family.
Theatre magic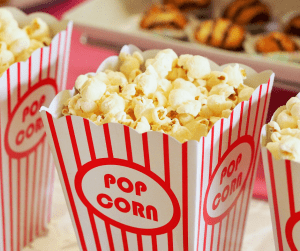 Don't feel comfortable sending the kids to the movie theatre just yet? Well you don't have to! Have the kids help you grab the dining chairs or their bean bags and set them up in rows in the lounge room. Chuck some popcorn in the microwave and choose a movie. If you don't have access to any movies then try looking into some of the streaming services like Netflix, Stan and Disney plus (and more) as most of these places will offer you a free trial. This trial could be anywhere from 7 days to a month and if your family can't afford to continue that streaming then all you need to do is cancel before the trial is up.
For older children, you can look into Netflix Party which is available for anyone using Google Chrome browsers on desktop or laptop. "Netflix Party is a new way to watch Netflix with your friends online. Netflix Party synchronises video playback and adds group chat to your favourite Netflix shows."
Other ways to bring the fun home this winter
Make cubby houses out of blankets
Set up some jumps outside for the kids to master on their bikes, scooters or skateboards
Using outdoor furniture and items set up an obstacle course
If you have spare boxes laying around you can make cubby houses, buildings and tunnels for endless imaginary play
Have the kids collect some sticks and leaves etc to help make Natural sensory activities and art
Buy some cheap pasta (don't stockpile though!) and have the kids use it with glue for art or string to make necklaces etc. You can dye the pasta different colours to make it more fun also.
Utilise our blog from 2017 on "How to survive the school holidays"
Take part in the Go Eco 30 day challenge
Help your children learn some more responsibility and maybe earn some pocket money with this extensive list of Kids chores by age
Whatever you decide to do with your children over these winter holidays, make sure to have fun with them as well. Keep them connected with friends and family to preserve their mental health and enjoy one of the very few school holidays that children can't just go off to their friend's houses or spend the day at the shops. Make the most of this family bonding time.